Take the off ramp and wander along the very river banks where bourbon whiskey first flowed. Old Route 8 invites you to slow down and explore. This exceptional 8-year, cask strength; single barrel bourbon has been crafted in the true Kentucky tradition and patiently matured to offer an elevated experience that can be enjoyed every day.
Like the thoroughfare it is named after, Old Route 8 connects bourbon's past and present and invites you to join in the journey.
Color
Graham crackers, vanilla, and salted caramel greet you as you approach, suggesting that this is a true Kentucky Bourbon. These early notes give way to undertones of cedar and oak foreshadowing that this bourbon has come of age.
Palate
The hints of favor and complexity created upon nosing are reinforced on the palate. Flavors of brown sugar, vanilla, and a dash of oak are balanced and revealed in smooth, cascading layers that only time and great liquid can deliver.
Finish
Long, smooth and lingering, the finish extends the joy of this pour, delivering a classic "Kentucky hug." Oak, baking spices, with a touch of sweetness are reminders that this is a traditional straight Kentucky bourbon that deserves further exploration.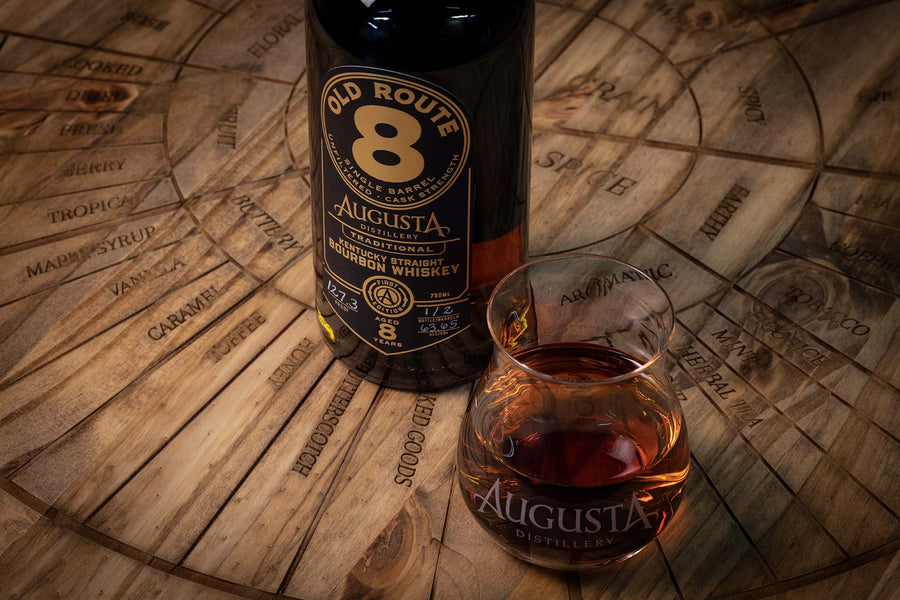 The Distillery
The Augusta Distillery sits on the limestone banks of the small Kentucky river town for which it is named. Building on the region's rich history, every curated batch keeps to the strict bourbon tradition and tells a story of community and camaraderie.
JOIN THE JOURNEY
If you want to find your way to something special, you need to exit the interstate. It's far too easy to cruise in the fast lane and follow directions to cookie-cutter experiences. But if you want to try something truly unique, you need to wander a bit.

Kentucky's Old Route 8 is a beautiful stretch of road that runs along the Ohio River, connecting historic river towns to larger cities and ports. It marks the original east-west route that first brought a new brand of whiskey into the country's interior and inspired a culture that still thrives today. The bourbon that now bears its name reflects the tradition of this track and the travelers who explore it. Premium, single barrel, full cask strength, it is an exceptional 8-year bourbon intended to be enjoyed every day.

POINTS OF INTEREST
• Collectable "First Edition"
• The first offering in a line-up of 4 expressions coming to market over the next 5 years.
• As with all Augusta Distillery expressions, this is a Cask Strength; Single Barrel Kentucky Straight Bourbon.
• Only 34 barrels/˜5,000 bottles.
• Only 600 Cases available at retail.