A true Kentucky bourbon, this limited release whiskey unmistakably captures your attention and rewards you from nose-to-finish. Aged 13 years in new, charred oak barrels, Buckner's offers an understated potency with exceptional balance, commemorating the distillery's inaugural bottling. Available for purchase at Kentucky Retail, Augusta Distillery, OHLQ, and Seelbachs.com (coming soon).
BREAKING NEWS: AUGUSTA DISTILLERY STRIKES GOLD IN NATIONAL SPIRITS COMPETITION
Color
An inviting amber color is the conclusion of an intense 13-year relationship between our mash and its new American oak barrel. The warm, mahogany hue characterizes Buckner's understated potency that has been deservedly earned as patience gives way to perfection.
Nose
A haunting combination of antique wood, wet soil and dry corn pulls forward from a honeyed vanilla palate. This introduction immediately suggests a rare complexity that can only be found in a true Kentucky bourbon with properly aged maturity.
Finish
Exotic spice and caramel notes are directly complemented by hints of buttery cream and cured tea leaves. Each sip provides an unforgettable experience that instantly returns you to the limestone hills of Kentucky only to demand further exploration.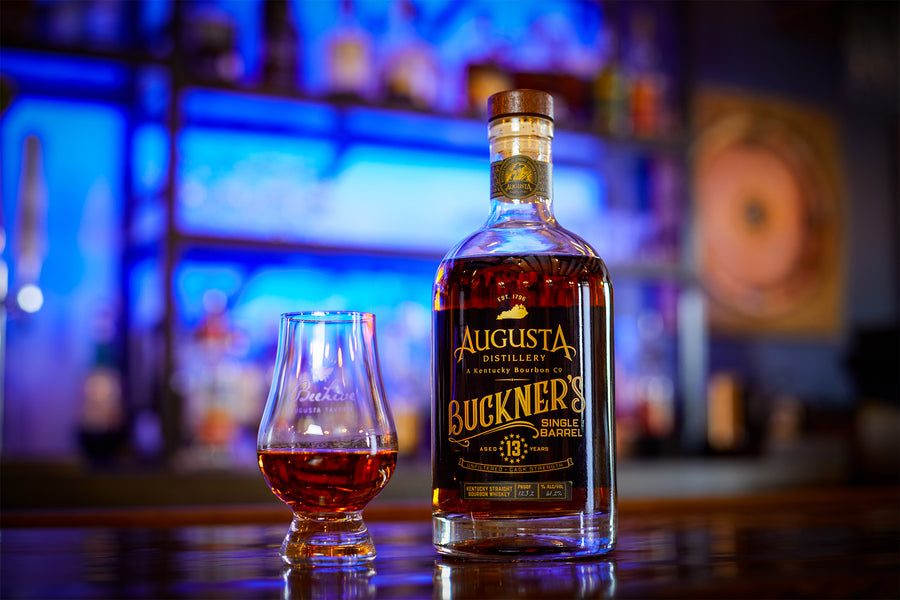 The finest bourbon prepared in the purest Kentucky tradition
Our bourbon is just as suited for sipping solo on the front porch as it is to celebrating together with friends and family.
The folks at Augusta Distillery pour their heart and soul into our products every day. We are in business to celebrate our community and build upon the lasting legacy of Augusta.
An honest hero & not a moment too soon
Buckner's Single-Barrel Bourbon is a tribute to the lasting legacy of Revolutionary War Hero Captain Philip Buckner. Following his years of service in the Virginia Militia, Buckner was awarded 7,000 acres along the Ohio River that would ultimately give rise the city of Augusta, Kentucky. The civic minded Buckner would go on to establish the first school, courthouse and jail, setting the roots of prosperity still visible in the community today.

HAND-LABELED &
SUITABLE FOR COLLECTORS
Distilled in Bardstown Kentucky, under the strictest bourbon tradition

Dutifully aged for 13 years within 200 yards of the distillery